You may have heard stories of a Tribe of women. Taller than then normal mortal. As per requested I recently set out to find traces of the tribe. As only having heard of the people ever being seen in the Trinsic jungle I headed out that way to find the mysterious tribe.
The first thing I did was try to find traces of them.

As I twisted myself in and out of trees, brambles, and vines. I was ambushed by hordes of monsters. These monsters were much more fierce than the normal ones I have faced before.

There were no match for someone created by the Guardian.
I ventured through lions, tigers, and Air Elementals oh my. This jungle is very dense many large trees and the bushes are quite gigantic in size. It was very hard to see. I pushed myself to find something at least anything left behind by these people.

Making way further into the jungle I heard a clamber of noise. Sneaking over seeing if I could get the jump on some fool, I saw a very tall woman fighting with some snakes. As I watched her she easy dispatched of the creatures.
As I went to go up to the tall woman another appeared and they had spotted me. Seeing as the jungle was so hard to get in and I fear running into fiercer creatures, I continued my walk to them.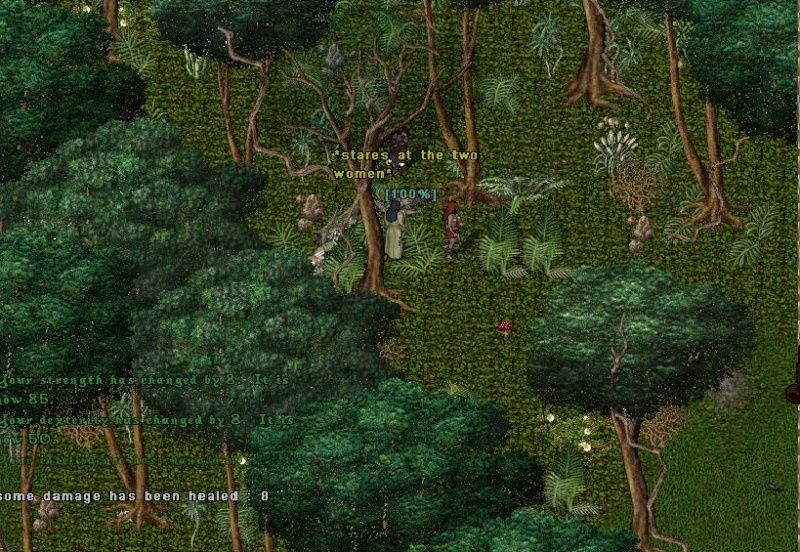 As I explained that I was searching for "Tall tribe of people", they got scared fearing giants. I laughed and I explained that they were the people I had been searching for.

As they questioned me asking me who I was, I found that they have no idea who the Guardian is.
I questioned them further about how long they have been out here and how they got here.

The told me they have been in the jungle since they were born. When I asked how old they were they replied 9 and 13. It is astonishing that these girls look so old yet they are so young. They explained that they train everyday.
As I was talking to the younger one, named Valasca, another showed her face. It is very hard to see in this jungle.

I also found out their motto.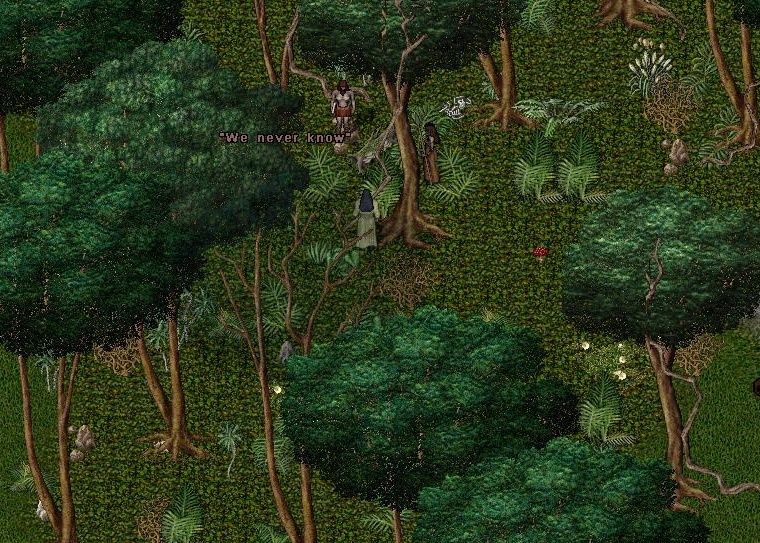 They then turn the questions back to me. Asking me who I was and why I looked so different than the other mortals. I explained that I am an Undead, yet I am only an Unborn.
During my explanation they started to cast their spells and ready their weapons.
They then simply stopped and when asked they said they were just testing my reaction. These Amazon women are quite unique and also very fickle.
After the wall dropped they said they had to sleep. As it was getting quite late I decided I need to get back to my crypt and sleep as well I decided to take my leave.
All I had to do now was to find how to get out of this damned jungle.

OOC:
Overall it was exciting. The people RPing the Amazons are a pretty cool bunch. The one was RPing 2 people at the same time.
Also, I had trouble getting anywhere. I asked Dust how to get there and all he said was read the website. All that said was somewhere beside Trinsic. Was fun getting wherever I was.
This being my first report if you can criticize it would be helpful.
-
Vincent Bo
dom